So I just watched the first couple of episodes of Kindaichi [Tsyoshi version] to have an idea of what Yamada's next role is all about. It was a bit (actually, a lot) weird seeing a young Tsuyoshi as I've only gotten into Johnny's this year and thus have only seen him as his present self in a handful of variety shows. He looks so different that my brain simply refuses to connect his present self from this: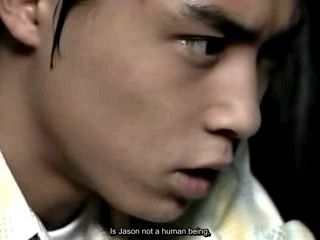 I know, I know. The picture quality sucks. But I watched and screencapped this from my phone so I can't do any better, ok? :P (Actually, I also uploaded the pic and am making this post through my phone before I go to sleep. Not that you care about that but whatever. XD)
So anyway, from the very little I've seen of the drama, I think it's a wonderful mix of Hajime's fun personality and all that blood and gore. Tsuyoshi did a wonderful job with the character and watching his version of Hajime makes me look forward to Yamada's version even more. I'll probably watch a little of Matsujun and Kame's versions as well just to see their take on the character.
I can hardly wait for the winter drama season!